Foundation Health Partners
Guest Wireless
We are pleased to provide free internet access points for portable computers and devices capable of receiving specific wireless signals.  
No password is required.  Log in to "FHP Hotspot" scroll to the bottom of the terms of service, and click on accept.   You will have wifi access for 24 hours.  After 24 hours, you will need to repeat the process.
Breastfeeding Welcomed Here
"Breastfeeding Welcomed Here" is an Alaska Breastfeeding Coalition initiative to raise public awareness and support for breastfeeding mothers. Not only is it important to be compliant with Alaska state law as a partner of ABC, FHP welcomes breastfeeding mothers on our campuses and we are dedicated to creating an environment of support.
Breastfeeding is the natural biological conclusion to pregnancy and a vital element in the development of the infant. It is the best source of nutrition for most infants, and provides incomparable health benefits for babies and mothers.
Scientific evidence  concludes that mothers and babies who breastfeed experience better health and lower risks for certain diseases. This research shows that breastfeeding reduces an infant's risk of asthma, obesity, type 2 diabetes, ear and respiratory infections, sudden infant death syndrome (SIDS), and gastrointestinal infections (diarrhea/vomiting). For mothers, breastfeeding can help lower the risk of high blood pressure, type 2 diabetes, ovarian cancer, and breast cancer.
At FHP, we support a mother's right to publicly breastfeed. On our campuses, she will not be asked to move to the restroom or to cover up. Such requests implies that the mother and baby are engaging in a shameful or distasteful act when they are simply feeding. It is not reasonable to expect others to eat in a bathroom.
At FHP, we understand the breastfeeding relationship is complex and can be disrupted by bottle-feeding. Babies eat on an irregular schedule and need to feed-on-demand to grow well.  
Tobacco & Drug Free
All FHP campuses are proud to be tobacco-free since 2007. Our tobacco-free policy demonstrates our commitment to promoting health and wellness in our community. If you are a tobacco user, please talk to you health care provider about the options available to you.

This tobacco-free policy includes all tobacco products, vapors, herbs and tobacco-less cigarettes (such as e-cigarettes or like products) and applies to all Foundation Health Partners facilities throughout Fairbanks.
Fairbanks Memorial Hospital
Cafe at FMH
The Fairbanks Memorial Hospital offers a variety of hot and cold foods, special-order grill items, daily specials, and hot meals, with a breakfast, lunch and dinner service.
The salad bar at the Fairbanks Memorial Hospital/Denali Center Café was voted #2 in the 2017 and 2019 Fairbanks Readers' Choice awards!
1st Floor, Main Entrance
6:00 a.m. - 12:00 a.m.
7 days/week
Breakfast
6:00 a.m. - 9:00 a.m.
Lunch
11:00 a.m. - 2:00 p.m.
Dinner
4:30 p.m. - 8:00 p.m.
Gift Shop at FMH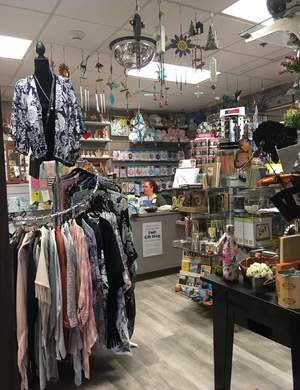 The gift shop at Fairbanks Memorial Hospital is one of the best-kept shopping secrets in Fairbanks!
We feature traditional items such as balloons, flowers, toiletries, candy, and baby gifts as well as many unique and special gifts  - some of which can't be found anywhere else in Fairbanks. We also feature an assortment of houseware gifts and a beautiful selection of scarves, purses and jewelry.
We accept telephone orders if you'd like to have a gift delivered to a Fairbanks Memorial patient, a Denali Center resident, or an FMH/DC employee. Simply call us on the phone number above and we can process credit card payment over the telephone. To place an order, to inquire about merchandise or our hours, please call us at (907) 458-5593.
All purchases made in the gift shop help to buy medical equipment for Foundation Health Partners, and financially support the programs provided by the Volunteer Services department.
1st Floor, Main Entrance
Phone (907) 458-5593
Fax (907) 458-5035
Hours
Monday to Friday
9 a.m. - 4:30 p.m.
Evenings & Weekends
Hours vary based on volunteer availability
*As a nonprofit Gift Shop, we rely on the generosity of our volunteers to work the evening and weekend shifts. Please always feel free to call the gift Shop at (907) 458-5593 to determine our hours on any given day.

If you're interested in becoming a volunteer, please check out our Volunteer page.
Chaplain Services at FMH
For many patients total care includes attention to the spiritual needs as well as the physical and emotional needs. Our chaplain is available to assist patients, residents, family and friends, regardless of religious preference. Clergy and religious leaders of patients' and residents' choice are also welcome to visit at any time.

Nurses can contact the chaplain at other times, as needed.
4th Floor, Main Entrance
Phone (907) 458-5409
Fax (907) 458-5418

Hours:
Monday - Friday 
8:30 a.m. - 5 p.m.
Contact an FMH/DC Patient
By Phone

Family and friends may call patients by dialing (907) 458-5000 and asking for the patient by name or room number.
By Mail
Letters and packages for patients are delivered each morning by hospital employees. Letters and parcels that arrive after a patient has been discharged will be forwarded to the address provided by the patient. Letters and packages should be sent to the patient's attention at the following address:
Fairbanks Memorial Hospital/Denali Center
1650 Cowles St.
Fairbanks, AK 99701
FMH Directory
  Information: (907) 452-8181
   Switchboard: (907) 458-5000
   Pre-Registration: (907) 458-5500
2 South Medical Nursing Unit
(907) 458-5260

Human Resources
(907) 458-5570

3 West Surgical Nursing Unit
(907) 458-5340

Interior Area Health Education Center
1302 21st Ave.
(907) 458-6417

Admissions/Patient Registration
(907) 458-5500
ICU/Telemetry Unit
(907) 458-5230
Auxiliary
(907) 458-5595

Lifeline
(907) 458-5597

Behavioral Health
(907) 458-5250

Nursery
(907) 458-5224

Business Office
(907) 458-5510

Nutrition Services
(907) 458-5632

Cafeteria
(907) 458-4003/4004

Occupational Therapy
(907) 458-5670

Cancer Treatment Center
(907) 458-5380
Outpatient Center
(907) 458-5600

Cardiac Rehab
(907) 458-5244

Pain Treatment Center
1919 Lathrop St, Suite 221
(907) 458-5638

Cath Lab
(907) 458-6950

Patient Accounts
(907) 458-5510
Central Scheduling
(907) 458-5588
Patient Quality Resources
(907) 458-5400
Chaplain
(907) 458-5409
Patient Scheduling
(907) 458-5588
Denali Center
(907) 458-5100
Pediatrics
(907) 458-5325
Emergency Department
(907) 458-5555
Pharmacy
(907) 458-5615
Environmental Services
(907) 458-5430
Public Relations
(907) 458-5322
The Hospital Foundation
(907) 458-5550
Radiology
(907) 458-6900
Gift Shop
(907) 458-5593
Rehabilitation Services
19 College Rd, Suite D
(907) 458-5670 
Health Info Record Services
(907) 458-5451
Respiratory Care
(907) 458-5678  
Home Health
1701 Gillam Way
(907) 458-5410
Sleep Disorders Center
1701 Gillam Way
(907) 458-5680
Home Medical Equipment
19 College Rd, Suite D
(907) 458-5421
Social Services
(907) 458-5400
Hospice Services
2001 Gillam Way
(907) 458-3090

Volunteer Services
(907) 458-5595
Hospital Administration
(907) 458-5300
Women Infant Services
(907) 458-5200
FMH Campus Maps
Fairbanks Memorial Hospital is located at:
1650 Cowles St.
Fairbanks, Alaska 99701
(907) 452-8181
Find the location of your test on this campus map
---
| | |
| --- | --- |
| Click image for the facility map | Click image for the parking map |
---