COVID Bites: February 10, 2021
Published
on
February 10, 2021
| 782 views
DHSS opened next tier of vaccine eligibility, limited supply of vaccines

DHSS Opened Next Tier of Vaccine Eligibility: Individuals in Phase 1b, Tier 2 are now eligible to receive the COVID-19 vaccine. This is an expansive group and  includes school teachers and staff members as well as several categories of essential frontline workers, again, it's an expansive list. Click here to learn more about eligibility and changes to the vaccine distribution plan. Click here to make an appointment to get the vaccine.
Limited Supply of Vaccines:  With the expansion of eligibility, appointments could again become difficult to get and may likely create anxiety for many. Unfortunately, vaccines remain a scarce resource. Remember, in spite of not having as much vaccine as we'd like, more and more of our community members are getting vaccinated - this is a great thing. Please help alleviate other's anxiety by reminding them that as more of our community get vaccinated, we increase the herd immunity within our community, which helps protects all of us, even those not vaccinated.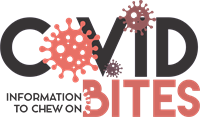 The information provided in COVID Bites is intended to provide a brief overview of relevant COVID-19 content. There is a tremendous amount of COVID information (and misinformation) on the internet. Content is being added several times a week so check back regularly! For the most accurate and current information always use trusted and verified resources like www.CDC.gov and www.COVID-19.Alaska.gov.

---