A letter from our allergist, Dr. Foote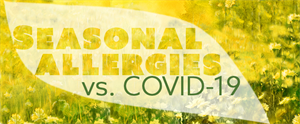 Hello fellow residents of interior Alaska from your Allergy Department at Foundation Health Partners and Tanana Valley Clinic.
We have been through a difficult time with COVID-19 in Alaska, with every area of life being affected. Thankfully, our current collective actions have helped limit the spread of this infection by "flattening the curve". Our work is not done and we all have a part to play in keeping ourselves, our families and our community safe. Please continue to follow what the health professionals ask of us.
We have a new challenge on the horizon that will affect many of us.   We are on the verge of the allergy season and with it, many can expect some or all of the following symptoms: itchy watery eyes, sneezing, runny nose, sinus congestion/pressure, itchy or irritated throat/ears, coughing and wheezing. Unfortunately, there is some overlap with COVID-19 symptoms, particularly: sore throat, congestion, sinus pressure, headaches, cough.
Over the past few months, we have learned that COVID-19 patients often do not show fever early in the course of the illness. There is a consistent pattern in the literature indicating that itching (eyes or skin) points to allergies and away from COVID-19. The overlaps can lead to confusion. How is one to tell if they have allergies or early COVID-19 infection? It may be difficult. Our medical team has worked diligently to separate patients with COVID-19 symptoms from those without them and we will continue to do so. Please bear with us as we work through this added challenge of dealing with the upcoming allergy season. We will continue to screen patients with questions to help get everyone to the care needed. These questions may change from week to week as the allergy season progresses and as we learn more and more about COVID infections.
What can you do to help:
 • Recognize the allergy season:
       o  Birch pollens generally peak early in May soon after the "green-up"
       o  Grass pollens peak in June and July
       o  Molds and weeds peak in the late summer and early fall (August/September)
 • Recognize your typical symptoms and share them with your healthcare provider, pointing out if there is anything out of the ordinary this year compared to in previous allergy seasons.
 • Be pro-active in preventing allergy symptoms:
       o  Wear your face mask outside– this can help protect against pollen and corona virus
       o  Wear sunglasses and hat to protect eyes and keep pollens out of your hair
       o  Change clothing when coming in from outside, put in a hamper that is not in a bedroom
       o  Bathe the dog more frequently
       o  Use a bedside air-filter device
       o  Start your usual allergy medicines before things get bad (now would be a good time)
       o  Keep up to date with your allergy shots or drops as prescribed
       o  For questions call your healthcare provider
       o  If you have questions about COVID, call the COVID hotline at 458-2888
Let's work together to best manage our allergy symptoms while continuing to perform COVID prevention: shelter in place, social distancing if you must go out, excellent handwashing, and wearing a mask when in public. No one needs COVID infection on top of allergy symptoms!

Thanks to each and every one of you for your efforts during this pandemic. Stay vigilant and keep up the good work.
Dr. Foote, MD
Allergy and Asthma Department
Tanana Valley Clinic