Written by: Mike Strum, MD, Joe Wiser, MD and Michael Swenson, MD
Published by: FHP Public Relations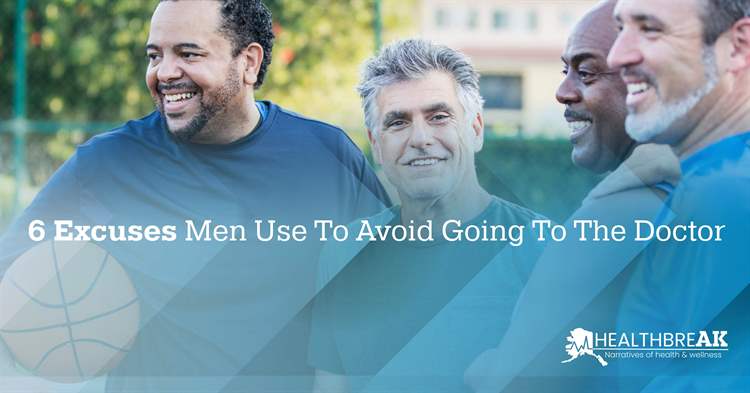 If you have a father, husband, boyfriend, son or male friend, you probably know that going to the doctor is not among their favorite things to do. According to a national study, conducted by Cleveland Clinic, men will do almost anything to avoid going to the doctor – even doing chores like cleaning the bathroom.  
Yet, preventive care and regular wellness visits are just as important for men as they are for women. In fact, men die younger than women, and they are more burdened by illness during life. They also fall ill at a younger age and have more chronic illnesses than women. A portion of the gender differences can be attributed to the gap in regular wellness visits seen in men.
While you've probably heard (or used) every excuse imaginable to avoid visiting the doctor, let us give you some information to refute those claims next time.  

We all deal with active work and personal schedules; modern life is incredibly busy! Meetings, family events, and weekend obligations make it seem impossible to find time to go to the doctor. However, we believe that it is important to consider your health as another non-negotiable task on your calendar. The couple of hours spent at your doctor's office on a regular basis could end up saving your life, or at the very least improving it substantially so that you can get the most out of everything else that you do. Investing in finances is readily understood, but investing in health may be even more important!

Fear of the unknown can sometimes keep men from visiting a doctor. This is especially true among men who smoke, drink or have put on too much weight. While it may feel more comfortable to avoid potential diagnoses, the consequences can be significant. Preventive wellness checks can help avoid potential health crises down the road. A patient's willingness to accept his doctor's recommendations can help men get on the right course to living healthier lives – before their quality of life is impacted. Early diagnosis and treatment can keep health challenges small and manageable.

Societal norms have conditioned men to suppress certain behaviors and emotions. For many generations, admitting to feeling sick was seen as potential "weakness," and sick men were told to "tough it out." The truth is that being proactive about our health and getting professional help when ill should be the norm for everyone, no matter their gender. The costs of the "tough it out" approach can be prohibitive, affecting not just the patient, but the family as well.

Proactive health care is important even if you don't currently have insurance or a rainy day fund to pay for medical expenses. Preventive care has repeatedly been shown to save money, as a doctor's visit is a lot less expensive than an unexpected stay in the hospital. In most cases, it makes more sense to spend a little money now and save a lot later.

Since many men don't regularly visit a doctor, they don't often have a regular primary care provider. Additionally, it may take some time before a man finds a doctor he trusts. The earlier men start this process, the easier it is to find a doctor that you trust and who inspires confidence.

Although you may feel healthy, you may not actually be healthy. Many life-threatening diseases common in men have very few, or even no, symptoms. One example—prostate cancer, the most common cancer among men—doesn't usually display symptoms in its early stages. Additionally, one third of all heart-attacks occur without warning. Regular preventive wellness checks can help identify issues early, when they are easier and more successful to treat.
If you find a loved one or yourself making any of the above excuses, it's probably time for a wellness check. Because health is not something many men think about often, it is important for the women that love them to encourage regular wellness checks. With Tanana Valley Clinic, it's easier than ever to check a wellness exam off the to-do list. To schedule a wellness check for yourself or someone you love, please call 907-459-3570 or visit FoundationHealth.org.  
Dr. Mike Strum, Dr. Joe Wiser and Dr. Michael Swenson are physicians at Tanana Valley Clinic. They are dedicated to preventive care measures to keep their male (and female) patients healthy and thriving.