Tanana Valley Clinic
At Tanana Valley Clinic, we accept:
Medicare
AK Medicaid/Denali Kid Care
Blue Cross
Aetna
United Healthcare
Cigna
We are contracted with:
Multiplan
Beechstreet
PHCS
First Health
---
We do not accept:
Out of state Medicaid
HMOs
Out of state Medicaid and HMO patients should go to an urgent care clinic or the ER (TVC's 1st Care is not considered an Urgent Care by insurance companies).
It is always best practice to call your insurance to make sure we are listed as a preferred provider.
Fairbanks Memorial Hospital
At Fairbanks Memorial Hospital we accept all commercial insurances and as a courtesy will bill your insurance company for your services / treatment.
We are in Network with:
Aetna
Blue Cross
United Healthcare
Cigna
Multiplan
Beechstreet
PHCS
MODA
We also accept:
Medicare
Medicaid
Veterans / Triwest
Tricare
---
We do not accept or bill Health Share Companies
Please be aware that depending on your insurance several types of services must be authorized prior to receiving them.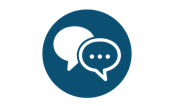 TVC Business Office
(907) 459-3580
Monday - Friday:
8 a.m. – 4:30 p.m.
FMH Business Office
(907) 458-5510
Monday - Friday:
8 a.m. – 4:30 p.m.
---