Diabetes & Nutrition Education Center
Diabetes & Nutrition Education Center
The Diabetes & Nutrition Education Center provides education to individuals with diabetes and teaches an individualized approach for disease management.
Currently in the United States, nearly 26 million people of all ages, races, and backgrounds have diabetes. Unfortunately, this number is expected to grow exponentially in the coming years. Because the disease is growing at such a rapid rate, there is a great need for diabetes awareness, education and support.
We offer:
Diabetes Annual Review
Diabetes self-management education
Diabetes Management during pregnancy 
Pre-diabetes education
Nutritional education and counseling for diabetes as well as other acute and chronic illnesses
Continuous glucose monitoring and training
Insulin pump start and management review
Appointments are made based on health care provider referral. Insurance policies differ so please check with your insurer prior to your appointment to determine if our services are covered.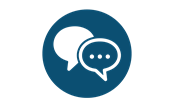 Reception:
(907) 458-2676
---