From the comfort of home, we're here for you.
About Telemedicine
Tanana Valley Clinic implemented broad reaching telemedicine capabilities in March 2020, in the midst of the Coronavirus pandemic. Our goal; to serve the most people in the largest capacity with the health and wellness of the community in mind.
Telemedicine specifically refers to providing remote clinical services using audiovisual technology, not to be confused with telehealth which refers to remote non-clinical services such as administrative meetings, medical education, provider training, in addition to clinical services.
Telemedicine offers a convenient solution to maintaining wellbeing when factors of life and work can hinder preventative care for many. Patients can be 'seen' by their regular provider from home if they are sick or unable to easily go to the appointment. The virtual care model can also be utilized for those who are traveling or snowbird out of state and still want care by their trusted provider.
How it Works
The patient-centered telemedicine service is a HIPAA-compliant resource provided virtually and efficiently via Zoom.  It takes place in patient's homes and in a provider's office, allowing the provider to see and virtually examine the patient. The process is streamlined with FHP admissions and scheduling teams, giving a patient a slot to virtually meet with their provider. A secure email is sent to the patient providing them the log-in credentials for that specific appointment, along with a tips sheet and other patient resources to make the experience successful.
The providers are part of a team that has delivered care to the Interior for years. The medical record can be accessed if the patient has been seen within the FHP system, offering ongoing, successful care. This can become invaluable for a more targeted treatment based on the patient's history, for example, not overusing antibiotics when sick.
Services Available
We offer a plethora of service lines available through Telemedicine, 8 a.m - 5 p.m.:  
Addiction Medicine 
Behavioral Health
Endocrinology
Family Medicine
General Surgery
Internal Medicine
Pediatrics
OB/GYN & Women's Health
Orthopedics & Sportsmedicine
Sleep Medicine
Urology
TVC's 1st Care offers Telemedicine appointments 8 a.m. - 8 p.m.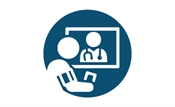 Look for this icon on the departments offering telemedicine services.
---