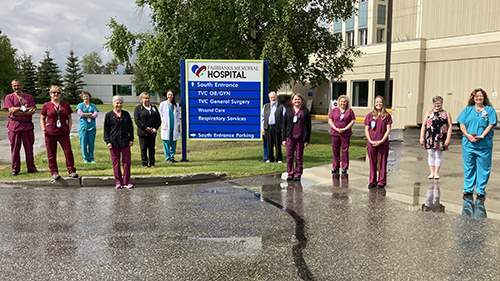 Wound Care Clinic
Wounds can be demanding, time-consuming and costly to manage. The outpatient wound clinic at Fairbanks Memorial Hospital is qualified to assist you by providing evidence based, cost effective and individualized management of acute and chronic wounds.
A candidate for the outpatient wound clinic is anyone who has a wound, acute or chronic, that has not shown signs of healing after two weeks, as well as patients with complicated surgical or traumatic wounds.
Our team of trained physicians/providers and certified wound care nurses are dedicated to improving the rate of healing and the patient's quality of life.
Patients receive ongoing individualized instructions on caring for their wound or wounds. This may include nutrition, fluid intake, prescribed medication, offloading or reducing pressure to an area, dressing change procedure and measures to prevent infection.
---
Our staff members participate in ongoing education to maintain the most up-to-date knowledge on current wound care practices.
Referrals by local providers are welcome.
Ostomy Clinic
An ostomy is a surgical procedure that creates an opening in the wall of the abdomen to discharge waste from the bowel or bladder. Ostomies may be temporary or permanent. For some patients, life can seem overwhelmingly different following an ostomy procedure. The outpatient ostomy clinic at Fairbanks Memorial Hospital is staffed by certified ostomy nurses trained in the care and management of ostomies. They are available before and after surgery to help patients and their families with education and support. The goal is to help patients adapt to life and return to normal activities as soon as possible. Our nurses work with patients of all ages and coordinate care with the patient's physician/PCP to provide:
Pre and postoperative education
Assistance with stoma site selection
Assistance with selection and procurement of supplies
Stoma and skin care assessment related to ostomies
Lifestyle support and counseling
Referral to other resources as needed
Troubleshooting ostomy related problems
A referral from your physician/PCP is required for wound and ostomy care. An appointment can be made for you upon receiving the referral. We will regularly update your physician/PCP of your progress.
Inpatient Services
Our nationally board certified nurses, as part of the Fairbanks Memorial Hospital and Denali Center team, bring experience, education and compassion to the health care system to assure appropriate care for individuals with wounds and ostomies.  
Our program focuses on restoring skin integrity and preventing skin care complications with tailored treatment plans that combine expert care with advanced technology for optimal patient care.
We are available in-house five days a week.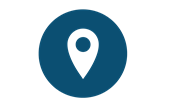 FMH Main Entrance
3rd Floor
1650 Cowles Street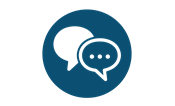 Phone:
(907) 458-3346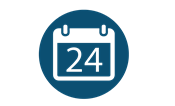 Monday - Friday
7 a.m. - 3:30 p.m
---