A month has passed since Fairbanks announced the first COVID-19 cases. Dr. Laura Brunner explains COVID-19 modeling that looks towards the future. Dr. Ramirez addresses where we are now, how we got here and what we need to continue to do.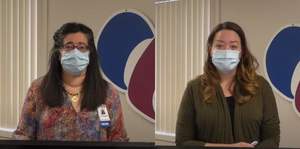 View the video here.
Below is a transcript of Dr. Laura Brunner's video on COVID-19 modeling.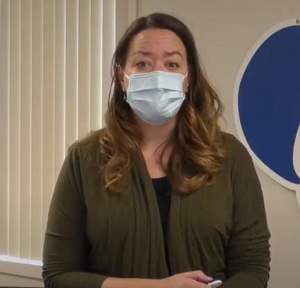 Modeling is like what we use to predict the weather. We use this information to prepare for what is coming. Unlike the weather, we can influence what will happen.
With modeling of infectious disease we are trying to prove the model wrong. We've all seen the predictions and curves that show hospital capacity being overwhelmed very quickly
Thank you Fairbanks, this is what so far we have avoided. We have slowed the spread. You have been part of this.
This model is done by Dr. Hennesey and crew at UAA. It shows real Fairbanks data and predictions.  It shows we are still at risk for a surge.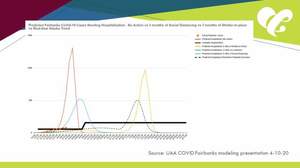 As we change our behaviors and start interacting more together we still have a risk of surge. This can be impacted by tourism, groups getting together and lifting of the shelter in place.  In Fairbanks a surge still has the potential to overwhelm our health care capacity.
As we enter into this next phase our goal is to prove the models wrong. Our goal is to prepare and prevent, not prepare alone. Prevention is in our control.
Thank you as Interior Alaska for all you have done as we begin moving to a new normal.
Below is a transcript of Dr. Angelique Ramirez's video on where we are a month after the first cases of COVID-19 in Fairbanks.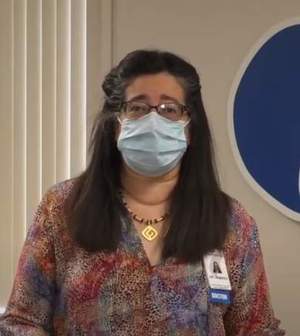 In Fairbanks, on March 16 we announced our first two COVID-19 confirmed diagnoses.
We had our first patient hospitalized with COVID-19.
On April 3, Fairbanks experienced the first COVID-19 related death.
We had an outbreak within our long-term care facility, Denali Center, and we had a cluster within our community … the term "hot spot" was used to describe what was occurring in Fairbanks.
We had health care workers test positive and/or quarantined due to exposure.
Today, one month later, in Fairbanks we have no new COVID-19 diagnoses in the past four days and only one new diagnosis in the past six days.  
As of today, we have truly flattened the curve within Fairbanks.  
Flattening the curve did not happen by accident.  
Suppressing the spread of the COVID-19 virus within Fairbanks was the result of hard work by many on the front lines of this crisis: the healthcare entities that are part of the Unified Command, the entire medical community including the private sector, our first responders, and countless community partners who have collaborated to create safe practices and to support those on the front lines.
Suppressing the spread of the COVID-19 virus was the result of contributions of those in the public who have sheltered in place, our business community who have sacrificed much to support sheltering in place, those who have practiced social distancing, those who are wearing cloth masks while out.  
Flattening the curve is not something any of us alone can accomplish … it only happens if we are all working together.
It is tempting to think that since we have flattened the curve, now life can get back to normal.
The reality is that we are in the midst of a global pandemic and have a new normal ahead of us.   
COVID-19, the virus and the disease due to it, has not changed.  We still have no immunity, no vaccine, and no disease specific treatment. COVID-19 is still highly contagious and has the potential to spread like wildfire through our community. 
COVID-19 still has the potential to overwhelm our health care system.
To protect our community our new normal will require continued change of all of us.
As a healthcare system Foundation Health Partners is prepared to care for COVID-19 patients and to do so safely.  As always, we are prepared to care for non-COVID patients.  And as a part of our new normal we are also ready for a surge of COVID patients because the risk of exponential growth is real and has not disappeared.
As a community our new normal requires us to continue social distancing measures this year. We need to continue to wear cloth face masks when out in public.  We need to practice social distancing of six feet apart.  We need to avoid large gatherings.  These measures are a part of our new normal and will protect our community from the rapid spread of COVID-19.
Working together, Fairbanks and the Interior can continue to be strong and healthy even as we live through this global pandemic.