COVID-19 Vaccines: Everything You Wanted to know, State updates vaccine appointment site, Johnson & Johnson COVID-19 vaccine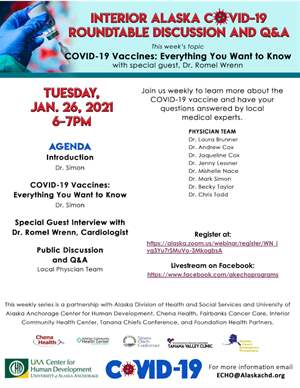 COVID-19 VACCINES, EVERYTHING YOU WANTED TO KNOW: Watch tonight's Interior Alaska COVID-19 Roundtable Discussion from 6-7pm and have your COVID-related questions answered by local medical experts. This weekly series is a partnership with DHSS, UAA, Chena Health, Fairbanks Cancer Care, Interior Community Health Center, Tanana Chiefs Conference and Foundation Health Partners. Learn more on The Loop, here or from outside the FHP firewall, click here to register or here to access the event via Facebook.
STATE UPDATES VACCINE APPOINTMENT SITE: The state has updated the COVIDvax.Alaska.gov website with  a "search" option that makes it easier to see who has appointments available. However, the list is not comprehensive and can only search providers or clinics who use the same appointment-making software. Click here to look at the search function and here to see a list of all Alaskan providers that offer the vaccine.  
JOHNSON & JOHNSON'S COVID-19 VACCINE: Johnson & Johnson's (J&J) COVID-19 vaccine will likely be the next one available in the US. J&J's Phase 3 studies include 40,000 volunteers and results could be ready for review by next week. The US has ordered 100 million doses and J&J has been manufacturing it while it has been testing the vaccine. (Typically, companies wait to make the vaccine after its been approved, but that changed during the pandemic). If the data from the Phase 3 trial shows that J&J's Covid-19 vaccine works and is safe, the company will go through the same emergency use authorization process through the FDA that Pfizer and Moderna did.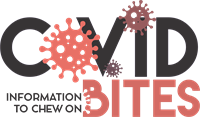 The information provided in COVID Bites is intended to provide a brief overview of relevant COVID-19 content. There is a tremendous amount of COVID information (and misinformation) on the internet. Content is being added several times a week so check back regularly! For the most accurate and current information always use trusted and verified resources like www.CDC.gov and www.COVID-19.Alaska.gov.