New Appointments for Community Mass Vaccination Clinic, Interior Alaska COVID-19 Roundtable Discussion and Q&A, Talk to a Doc, Volunteers Needed, Alaska among top vaccinated states. highest number of recent cases per capita
New Appointments for Community Mass Vaccination Clinic: A new Community Mass Vaccination Clinic has been scheduled for March 24 at the Carlson Center. Appointments for this clinic should be available on the COVIDvax.Alaska.gov website by noon, today, Thursday, March 18. You can make an appointment online at COVIDvax.Alaska.gov or call 907-646-3322.  (Remember, Chrome, Firefox and Safari are the recommended browsers for the state's site.)
Interior Alaska COVID-19 Roundtable Discussion and Q&A: This week's COVID-19 Roundtable Discussion provided great education surrounding the COVID-19 vaccines. Click here to access recordings of all past sessions. 
VOLUNTEERS NEEDED: There are several Community Vaccine Clinics scheduled at the Carlson Center in the coming months. Clinical and non-clinical volunteers are needed. Go to FairbanksACC.org to learn more.
Alaska Among Top 3 Vaccinated States: The top three vaccinating states by percentage of population with at least one dose administered are New Mexico at 29.6%, Alaska at 28.2%, and South Dakota at 27.7%.
HIGHEST NUMBER OF RECENT CASES PER CAPITA: The top 10 counties/areas with the highest number of recent cases per capita according to The New York Times: Lyon, KY. Chattahoochee, GA. Concho, TX. Pittsylvania, VA. Webster, WV. Southeast Fairbanks Census Area, AK. Pitkin, CO. Nuckolls, NE. Huron, MI. And Missaukee, MI.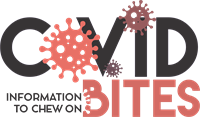 The information provided in COVID Bites is intended to provide a brief overview of relevant COVID-19 content. There is a tremendous amount of COVID information (and misinformation) on the internet. Content is being added several times a week so check back regularly! For the most accurate and current information always use trusted and verified resources like www.CDC.gov and www.COVID-19.Alaska.gov.