Below is a transcript of Dr. Mishelle Nace's video on the importance of community masking. Remember shelter in place and staying home are the most effective ways to prevent the spread, but for when you do need to go out in public, MASK UP FAIRBANKS!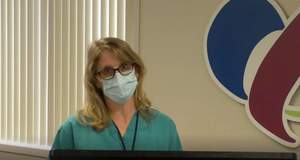 Below is a transcript of Dr. Mishelle Nace's video on the importance of community masking. View the full Facebook video here.
It is without a doubt the best thing we have to limit the spread of COVID-19 is to shelter in place --- To stay home! 
If you do need to leave your house for an essential reason, we continue to ask you to practice social distancing by staying at least 6 feet from others, to use impeccable hand and face hygiene and now we are asking our community to wear a mask when in public just as the CDC now recommends. 
We are not saying you need to use medical grade surgical masks like the one I am wearing now, as we want to preserve that supply for those in the health care field. 
We are talking about a cloth barrier on your face that protects others from you—from the tiny droplets that come from your nose or mouth when you talk, laugh, sneeze or cough. These droplets could contain virus even in a person who doesn't realize they are contagious. That person could be you. That person could be me. This is how infection can unknowingly be spread from one person to another. 
By wearing a mask when we have to leave our house, we have another tool to help decrease spread. It should be restated that wearing a mask is not a license to disregard shelter in place, social distancing or hand hygiene, rather it is one more strategy we have to help keep this virus contained. 
There is an excellent factual video by Dr. Mark Simon on FMH Facebook page that was posted on Wednesday, April 1st. There are many Fairbanks sew'ers who have been and continue to work on making masks for our community. We appreciate these efforts. 
If you do not have a mask there are other alternatives such as using a bandana, necky, buff, or scarves. We have information on COVID-19 and masking on our FHP website. 
We want to encourage individuals and businesses to help support this message, share it with others, and lead by example. Help family, friends, employers, employees, customers, and all to understand the importance of these steps in decreasing spread. 
It takes a village to control COVID-19, and that village should practice social distancing, impeccable hand and face hygiene, and wear a mask when they do have to leave their homes. Mask up Fairbanks!