Happy Medical Laboratory Professions Week! Celebrate the contributions of the scientific and technical personnel whose work in the medical laboratory gives our nation the best possible health care.
'Laboratory professionals get results,' couldn't be a more fitting slogan for Medical Laboratory Professions Week, also known as Lab Week, this year in the midst of the pandemic.
The Fairbanks Memorial Hospital (FMH) Laboratory at FMH and Tanana Valley Clinic (TVC) have processed over 2,000 COVID-19 collections and results since March 4, 2020.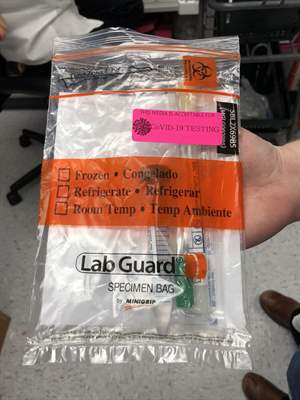 COVID-19 samples are collected at various FHP sites, including the drive-thru testing sites. A collection kit captures the patient's sample through a nasal swab, which stays preserved in a viral test media (VTM). The FMH Lab processes the sample and outsources the testing to the State Virology Lab  at UAF or Mayo Clinic in Rochester, Minnesota. When it is time to test for COVID-19, the sample is put in a reagent that is run through an analyzer, which reports a positive or negative result.
At this time, the tests for COVID are not ran at the FMH Lab. 
"This is something we would like to change," said Director of Laboratory Services Casandra Khesed. "There is a nationwide shortage of reagent and vendors keep expanding supply but it goes to the country's COVID hot spots, like New York."
Khesed and her team have requested reagent in hopes of establishing in-house testing in the future.
Along with processing COVID tests and looking for alternative means of testing, the FMH Lab is continuing their business as usual, preforming biopsies to screen for cancer, identifying bacterial infections, and testing blood and urine for hormones and drugs.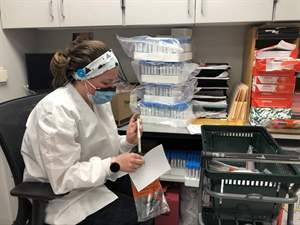 The FMH Lab already runs 24 hours a day, seven days a week to provide quick turnaround times. Since the COVID-19 outbreak, staff in some areas have doubled and some have even come in on their days off. The lab has conducted countless amount of research for supplies and testing to battle nationwide shortages and meet the needs of the community.
The work our lab does is invaluable to the health and safety of our community, every day. Thank you to our laboratory medical professionals! If you know a Phlebotomist, Medical Laboratory Scientist, Histotechnologist, Cytotechnician, Lab Tech Trainee, or Pathologist, be sure to send them your thanks and a virtual or air high-five this week.