Stitched together with love
Published
on
May 1, 2020
| 1,935 views
Interior Quilters' Guild created custom patient care items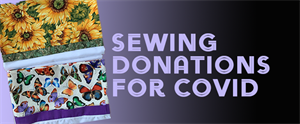 When the COVID-19 cases began to increase worldwide, local Interior health care leaders began implementing response actions and emergency preparedness preparations.  The long laid plans of the Carlson Center transforming into an alternative care site to Fairbanks Memorial Hospital were among the readiness strategies.   The planners began executing the logistics, one of which was patient comfort items, pillows and blankets.  Lori Gibertoni, a 39 year nurse at Foundation Health Partners (FHP), and named the Incident Command Personal Protective Equipment Construction Unit Leader, would take on the role of procuring these necessities.
A long time sewer, Gibertoni had the knowledge needed for the task.  She began with the fabric, knowing that fabric procurement would be an issue during a shelter in place order.  She reached out to Fairbanks hotels for gently used sheets and after learning about the reason, bags of various sized sheets, and a few pillow cases were gladly donated.  As for the fabrication of pillowcases and blankets, Gibertoni called upon the Cabin Fever Quilters' Guild, a volunteer association of which she is a member.
"I reached out to Elaine, a member of the Guild, who put the call out to the members," reflects Gibertoni.  "Each member has a heart for giving and without having to leave their homes, had material they were willing to donate.  It was an opportunity for them to get busy and do what they love, help the community."
Without hesitation, eleven members of the Cabin Fever Quilters' Guild took to their sewing machines, thread, donated sheets/pillowcases and yards of their own fabric to construct the needed elements for the Carlson Center patient beds.  To meet the need, donated sheets were scaled down and sewn into pillowcases, each embellished with a colored band of fabric.  The blankets were made of fleece to offer maximum warmth and comfort, and all crafted from donated material from Guild members.  The Guild finished 39 pillowcases and 20 fleece blankets, and should the need arise, sewing would begin to ensure all patients had these essential comfort items, while being treated at the Carlson Center. Both comfort items would remain with the patient, being a souvenir of survival, accompanying them home upon discharge.  
"Members of the Cabin Fever Quilters' Guild were ready and willing to help out in this emergency request," said the Cabin Fever Quilters' Guild Committee Chairman for Community Sewing, Elaine Thompson McGee. "We make and donate quilts to the American Red Cross and to Stevie's Place; this was one more way we could contribute to our community."
Knowing that the alternative care site may never see patients due to the 'emergency only' context in which it was created, the sewers unanimously agreed that the homemade pillow cases and fleece blankets would be donated to a Fairbanks shelter or other group in need.
As Fairbanks continues to come together amid a world-wide pandemic, the reality of neighbor helping neighbor in a way Fairbanks has known it could but never had to has been the most remarkable of silver linings.
"Thank you to the great community of Fairbanks who really came through for the hospital when we have expressed a need," shares Gibertoni.  "I am so impressed with the community. I knew we lived in a special place and this pandemic really accentuated that.  The people here just want to help." 
---