Learn more about FHP and the latest vaccine distribution phase here.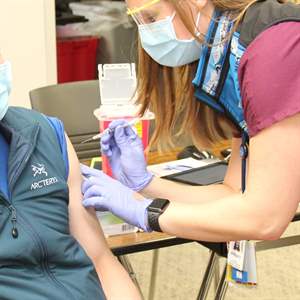 On Monday, Jan. 4, the State of Alaska Division of Health and Social Services (DHSS) announced upcoming COVID-19 vaccinations for Alaskans aged 65+. Foundation Health Partners (FHP), along with several other locations (Interior Community Health Center, Costco, Safeway, Fred Meyer, and Chena Health) in Fairbanks were allotted a limited number of vaccines to administer.
The State of Alaska Division of Health and Social Services (DHSS) is doing a great job of handling distribution of the COVID-19 vaccine. Because vaccine supply is extremely limited right now, the State has developed a phased approach to vaccinate all Alaskans. The phased distribution plan is on the DHSS website at www.covid19.alaska.gov  vaccine supplies will increase and as they do each location will receive more and more vaccines.
Alaskans aged 65+ weren't scheduled to receive their vaccines until the end of January, however because it appears there may be more vaccine than is needed for health care workers, the State was able to make some vaccines available for Alaskans aged 65+. On Monday we found out that we'd be able to help in vaccinating the Interior's seniors.
Those individuals in the 65+ age group were able to go online today, at noon, to schedule their appointments, via the DHSS website. FHP was allotted 750 vaccines to administer to seniors. Within two hours of making those 750 appointments available, every available appointment was filled.
DHSS is allocating vaccines to different dispensing clinics and pharmacies to communities across Alaska. While we wish there were more vaccines available, we only receive what the state can allot to us – and of course the State only receives what is allotted to them.
The limited supply of vaccinations can be very frustrating to those who really want to receive it. Be assured the State will continue to receive vaccines and every Alaskan will have the opportunity to be vaccinated. 
Appointments can only be made via the DHSS website, COVIDvax.Alaska.gov. If someone doesn't have internet access they should call 907-646-3322 and leave a message. The State is actively working on additional scheduling solutions for those without internet access.
The DHSS website is the best source of information for all COVID-19 related information, including the vaccine. For more information, use one of the following sources:
Best sources for information: