First front line health care workers with Foundation Health Partners get COVID-19 vaccine
Manuela Hitz, nursing supervisor at Fairbanks Memorial Hospital received the first of 975 COVID-19 vaccines allotted to Foundation Health Partners (FHP) on Thursday, Dec. 17 at 7:50 a.m. Colleague, friend, and RN, Nancy Spencer, a 40 year employee of Fairbanks Memorial Hospital administered the vaccine which was immediately followed by cheers from those in the room.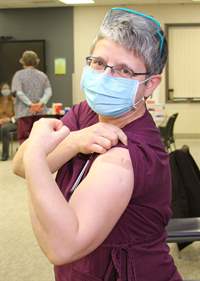 Hitz, excited to receive vaccine, was surprised and honored to be the first.
"I hope that I can be a role model to a lot of people out there, especially health care workers to come in and get the vaccine," Hitz said.
After receiving her vaccine and waiting the recommended 15 minutes, Hitz jumped into action, having volunteered to be a vaccine administrator herself.
"I just trust in the process. I believe in science. I think the whole world came together to make this happen. I am just so happy that it finally got distributed," Hitz said.
FHP will disseminate the 975 vaccine allotment over the next four days, with the second required dose to be administered 21 days from the first. Employees and medical staff who receive the vaccine today, will receive their second dose on Jan. 7, 2021. FHP plans to administer 288 vaccines today, filling every available appointment. Employees and medical staff are prescheduled and are vaccinated at one of six stations in the temporary Vaccine Clinic that was set up in the McGown, Kiewit and Chandler conference rooms.
The vaccine planning team, led by Chief Medical Officer Dr. Angelique Ramirez and Occupational Health Director Kate Messenger, and made up of employees from Administration, Occupational Health, Pharmacy, Supply Chain, Information Technology, and Project Management worked tirelessly to organize the logistics of supplies, processes and procedures in order to deliver the vaccines safely. Several hospital officials, including FHP Chief Executive Officer, Shelley Ebenal and Greater Fairbanks Community Hospital Foundation board member and former commissioner of Alaska Division of Health and Social Services Commissioner, Karen Perdue were present for the early morning run-thru and watched as the official first vaccine was administered.
FHP is grateful to have received the allotment of vaccines that will help ensure the safety and well-being of its health  care workforce. The excitement, joy and emotion could be felt throughout the room as employees and medical staff received this game-changing vaccine.
"Our workers are here to take care of people, for those sick from COVID, as well as those who suffer a stroke or heart attack or are here to deliver a baby, we want to be here," said Chief Medical Office Angelique Ramirez. "This vaccine is a way for us to be here and protect our people so that we can continue to serve."
The vaccine brings hope but not freedom. COVID-conscious behaviors are still critical, mask up, avoid gatherings, stay at least six feet away from those around you and wash your hands.