To protect the health and safety of our patients, health care workers and community, Foundation Health Partners is screening and restricting visitors at all campuses. The health and wellness of the people we provide care for is our top priority, and community mitigation measures will allow us to remain committed to that mission. 

Please understand that visitation policies are subject to change. Find the most current visitation information here or call the FHP Information Line at 907-458-5066.
Tanana Valley Clinic
Tanana Valley Clinic is screening all patients and visitors upon entry. You will be asked to wear a mask at all times while in our facility. We will provide a clean, clinical mask at the screening station.
Fairbanks Memorial Hospital
You will be asked to wear a masks at all times while in our facility. We will provide a clean, clinical mask upon entry.
---

Our Visitor Guidelines for patients have been updated and simplified into a Red / Yellow / Green system. These levels are based on our hospital capacity and the Fairbanks North Star Borough COVID-19 rates.
The current visitation levels at Fairbanks Memorial Hospital is RED: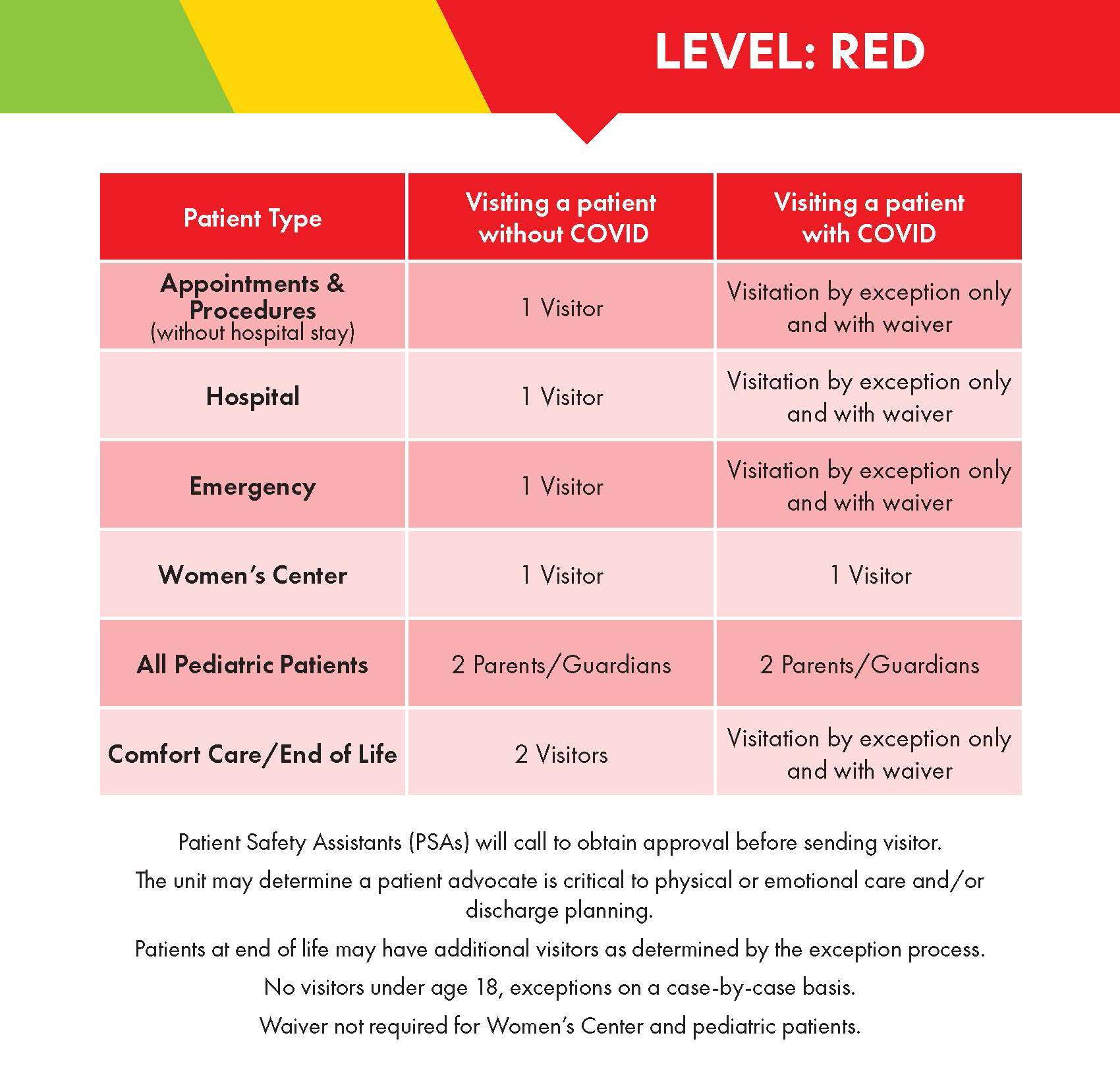 Additionally, visitors of COVID-19 positive or PUI patients will now be required to sign a waiver prior to each visit, and must wear a KN95 (non-fit tested) mask with a face shield for the duration of their visit.
---
Points of Entry
In an effort to reduce the risk of exposures, the hospital has limited the points of entry into the building and secured all other entrances for badge access only:
Fairbanks Imaging and Breast Center and J. Michael Carroll Cancer Center entrances are open for patients only.

The South Tower Entrance (between FMH & Fairbanks Imaging and Breast Center) is open to patients with appointments at TVC OB/GYN, TVC Surgery, TVC Urology and FMH clinics.

The North Entrance will have limited patient access for Surgery Services, Outpatient Procedures, Infusion Therapy, Cath Lab, Cardiac Rehab and Porter Heart & Vascular Center.
---
Closed to Public Access:
Denali Center
Cafeteria
Business Office. Call in only: 458-5510
HIMS (Medical Records). Call in only: 458-5450
Denali Center
On Nov. 12, 2021, the Centers for Medicare and Medicaid Services (CMS) released a revision to the long-term care COVID-19 visitation regulations to allow visitors. This decision was based on the successful implementation of the COVID-19 vaccination and recent COVID-19 boosters in long-term care. Visitor restrictions have been in place to mitigate the risk of exposing vulnerable residents to COVID. Denali Center will continue to mitigate those risks to residents and staff with the following guidelines: 
All visitors must be screened for COVID-19 symptoms upon entry. Visitors who have a positive viral test for COVID-19, symptoms of COVID-19, or currently meet the criteria for quarantine will not be allowed to enter the facility.
There will be a COVID-19 screening area at the front entrance of Denali Center.  Once you have screened, a staff member will review the screening and let you into the building.
You are required to go to and from the visit area.  Please do not go to public areas.
Up to two visitors can be accommodated for in room visitation, this allows us to maintain physical distancing. We cannot accommodate large groups without advance notice. To request space for more than two visitors, please call 907-458-5121 to arrange the appropriate visitation area.
Visitors will be required to wear a face mask (provided at the front entrance), maintain physical distancing of at least six feet, and adhere to hand hygiene practices.
We cannot accommodate food or beverage service during the visitation and maintain masking.
Instructional signage will be throughout the facility with visitor education on COVID-19, including signs and symptoms, infection control precautions and other applicable facility practices (e.g., use of face covering or mask, hand hygiene, and specified entries, exits and routes to designated areas). 
Visitors who are unable to adhere to these guidelines will not be permitted to visit or will be asked to leave.
---