DISCLAIMER: FHP's response to COVID-19 is an evolving situation, and circumstances may change. Please check regularly for the most up-to-date information. To see our latest news, hours and entrances click here.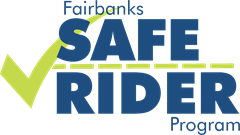 Welcome to the Fairbanks Safe Rider Program. As part of the Fairbanks Safe Kids Coalition, and partners with Alaska Highway Safety Office, Foundation Health Partners sponsors a car seat fitting station at Fairbanks Memorial Hospital. 
In an effort to reduce highway related injuries and death to our community, we provide injury prevention education for car seats, booster seats and motor vehicle safety. Community members can schedule car seat checks by contacting the Safe Rider Program at (907) 458-SAFE (7233) or via email. 
Car Seat Fitting Station Locations
Fairbanks Safe Rider Program
Fairbanks Memorial Hospital
Call (907) 458-7233 
Text (907) 978-6928
---
Fairbanks Native Association
(907) 456-4989
---
Fairbanks Police Department
(907) 450-6500
---
Ester Volunteer Fire Department
(907) 479-6858
---
Fort Wainwright Fire Department
(907) 353-9170
---
Eielson Air Force Base Fire Department
(907) 377-4156
---