Written by: Milton Wright, DO, ACOFP Board Certified, and Internationally Certified FDM Provider
Published by: FHP Public Relations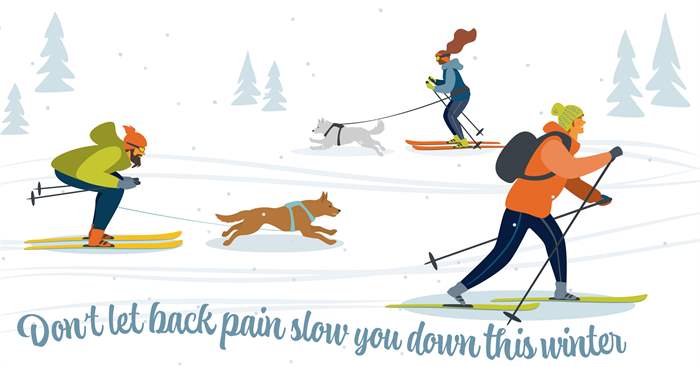 Your skis are waxed, the snow is falling and Creamer's Field is calling. You hop out of bed, planning to spend Saturday out on the trails and you feel that familiar tweak in your back. You pop some Advil, do some stretching and unfortunately the pain persists. So, instead of a day on the trails, you spend the day on the couch with an ice pack on your back.
According to the Center For Disease Control, 25% of U.S. adults report having back pain in the past 3 months. One-half of all working Americans admit to having back symptoms each year and more than 80% of people will experience back pain at some point in their lives. In addition to discomfort of living with lingering ache, chronic pain has been linked to numerous physical and mental conditions and contributes to high health care costs and lost productivity.
What Causes Back Pain?  
The human back consists of a complex structure of muscles, ligaments, tendons, disks, and bones, which all work together to support the body and enable us to move. The segments of the spine are cushioned with pads called disks. Problems with any of these components can lead to back pain.
More specifically, back pain commonly stems from strain, tension, injury or structural issues:
STRAIN:  A strain is an injury to either a muscle or tendon. With a back strain, the muscles and tendons that support the spine are twisted, pulled or torn.
TENSION:  While some people manifest stress in their minds, others manifest it physically. When stress manifests physically, it causes us to tighten our muscles, particularly the muscles around our shoulders and down our spine. It is the tension of these lower back muscles that causes us to experience back pain.
INJURY:  Injuries are a common cause of back pain and occur when you use your back muscles in activities that you do not do very often, such as lifting a heavy object or doing yard work. Severe back injuries may result from car crashes, falls from significant heights, direct blows to the back or the top of the head, a fall onto the buttocks, or a penetrating injury such as a stab wound.
STRUCTURAL ISSUES:  A number of structural problems may also result in back pain. Structural issues may include: ruptured disks, bulging disks, osteoporosis, sciatica, arthritis, abnormal curvature of the spine or kidney problems.
When Should You Seek Treatment For Back Pain?  
Most back pain gets better within a few weeks with minimal treatment at home. Over-the-counter pain medications and cold packs often help reduce or eliminate back pain. You should consider calling your primary care provider if:
back pain hasn't improved after a week with home treatment
if your back pain is intense
spreads down one or both legs
causes weakness or tingling
occurs with unintended weight loss
includes swelling or redness on your back 
keeps you from participating in normal, daily activities. 
You should seek emergency medical care if your back pain is the result of a car crash, bad fall, sports injury or occurs with a fever.
What Treatment Options Are Available? 
If your back pain is from a recent strain or mild injury, your primary care doctor can probably help relieve the pain. But if the pain is severe, ongoing, or accompanied by other symptoms such as numbness or tingling in your arms or legs, it may be time to see a provider who specializes in back pain relief. The following chart summarizes the most common types of back pain providers: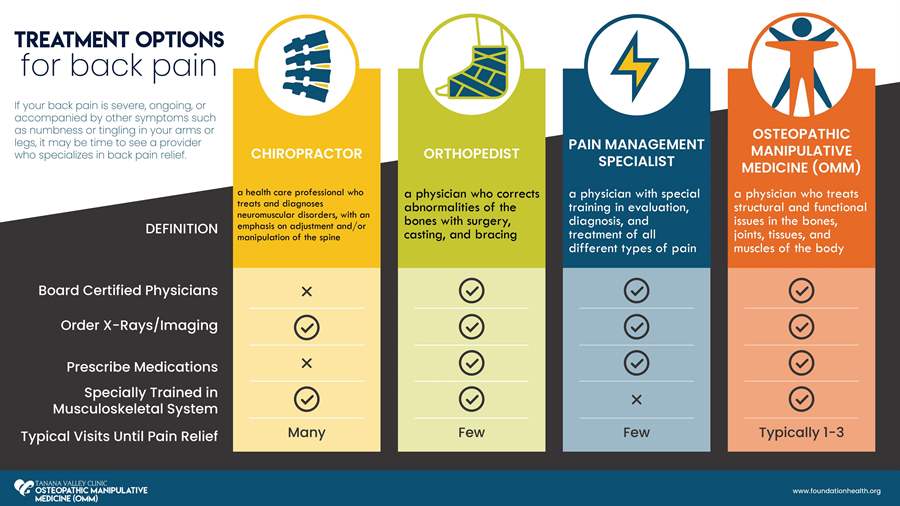 What is Fascial Distortion Model?
In addition to classic osteopathic manipulative techniques, physicians at the Tanana Valley Clinic (TVC) OMM clinic are specially trained in The Fascial Distortion Model (FDM). By identifying and treating the strained or injured connective tissue (fascia) that surrounds the body and creates support to the low back, OMM treatment can decrease both discomfort and treatment time. 
FDM is a treatment method that is patient-driven. The goal of treatment is to ease muscle or joint pain, promote healing and increase overall mobility. Best of all, OMM can complement, and even sometimes replace, drugs or surgery.
TVC OMM providers are residency-trained medical physicians who have additional training in the diagnosis and treatment of musculoskeletal disorders. TVC OMM providers are clinical faculty members of several medical schools and many are internationally certified FDM providers dedicated to providing treatments to the greater Fairbanks area. The OMM providers also have FMH hospital privileges.
This winter, instead of spending time on your couch with ice on your back, consider an OMM treatment. TVC's OMM clinic treats hundred of patients with back pain each year and utilizes all the classical back pain treatment techniques in addition to FDM. Let us help you get back on that trail – give us a call.
For more information about FDM, please visit the American Fascial Distortion Model Association at www.afdma.com
Ever wondered what a Doctor of Osteopathic Medicine is? Please take a moment and visit: https://osteopathic.org to find out today.