Written by: Christopher Dean, B.S., L/AT
Published by: FHP Public Relations

The temperatures have dropped, the days are becoming shorter, the leaves are turning burnt yellow and pumpkin spice products have invaded the grocery stores. Fall is a great time to get outside and enjoy nature's seasonal sights. This fall, I encourage you to try one of the following seven activities to keep yourself active between summer and snow!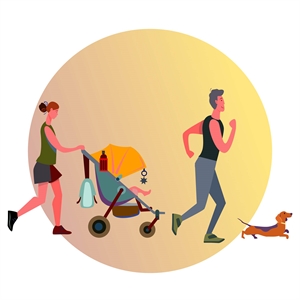 Go for a walk. Walking is one of the easiest, cheapest and most fun ways to get in an autumn workout. Go for a walk around Creamer's Field or one of your favorite local parks, to get those extra steps and movement into your day. If you have children you're trying to entertain, consider an autumn scavenger hunt. It's a great way to teach children about seasons, trees and animals.

 
Rake the leaves from your yard. If you have a lot of trees in your yard, turn what might seem like a chore into family fun time. In addition to being a great source of cardio exercise, raking leaves checks one task off your to-do list. If you have children, they might love the fun together time as you rake (and jump into) piles of leaves. If your yard doesn't have many leaves, volunteer to rake for a friend or relative who might need a little extra help.

 
Go hiking in the mountains. Autumn is a beautiful time in the mountains of Alaska. The tundra is bursting with fall color, crowds have thinned, and the mosquitoes are all but gone. Fall in the mountains also brings shorter days, colder nights and quickly changing weather. Before you go be sure to check trail conditions, bring appropriate clothing and hydration and let someone know where you will be and when you plan to return.


Harvest your garden. Planting flowers and vegetables can reap bountiful and delicious harvests for your dining table but gardening is also good for your health. Pulling weeds, reaching for various plants and tools, and twisting and bending as you harvest work new muscles in your body and help with strength, stamina, and flexibility.


Go for a bike ride. With the cool, crisp air, fall is a beautiful time to go biking! An hour-long bike ride can burn over 500 calories. Fairbanks has several designated bike trails around the city. The main ones are along the Chena River and around Farmer's Loop.


Pick yourself a healthy snack. You can get your exercise in the great outdoors while you pick a healthy snack. Apple, blueberry and cranberry picking involves a full range of muscle movements.


Keep active during TV time. Fall television programming means your favorite shows will be returning to air. Instead of becoming a couch potato, use that time to move. Challenge your family to see who can do the most push-ups, sit-ups, or jumping jacks during a commercial break. TV time is also a great time to jump on the treadmill for a short walk while you watch your favorite show. 
Fairbankans learn quickly that the time between summer and snow is limited. Now is the time to take advantage of the beautiful fall weather before the inevitable snow hits. Whether you love to run, walk, bike, garden or hike, you can always find new ways to exercise in the Interior this year.
Christopher is a member of the Orthopedic & Sportsmedicine team. If you have questions about this article or an orthopedic concern, please contact your primary care provider or the Orthopedic & Sportsmedicine Department at 907-451-6561.