TVC Addiction Medicine offers comprehensive evaluations and treatments for a full range of addiction medicine services for teens and adults. We have addiction-trained physicians and licensed addiction therapists who provide evidence-based treatments and care that's tailored to meet the patient's individual needs.
TVC Addiction Medicine offers coordinated outpatient care to help patients overcome substance use disorders and addiction as part of a comprehensive approach to wellness.
Alcohol Treatment
Vivitrol is an FDA-approved prescription injectable medicine used to treat dependence on alcohol and prevent future cravings and dependence after detoxing. Any alcohol use must be stopped before beginning Vivitrol treatment. This once-monthly shot releases extended amounts of naltrexone to block the effects of alcohol and reduce cravings. This medication is most effective when combined with other elements of treatment programs that your provider will introduce you to.
Naltrexone is used for patients that are not physically dependent on alcohol or other substances at the time of treatment to avoid negative side effects. This medication blocks the effects of alcohol and reduces alcohol cravings. Naltrexone is designed to help sober patients maintain sobriety. One treatment lasts up to three months.
Other treatments can be used including naltrexone in combination with other medications.
Opioid Treatment
Our outpatient treatment program focuses on substance use disorders that can be assisted with medication. The goal of a medication-assisted treatment plan is to help patients with their transition away from substance use. There are a variety of medications that when prescribed by a physician, can help relieve withdrawal and cravings. Medications can be administered daily, weekly, or even monthly depending on the plan that your physician may recommend.
Coupled with other resources such as counseling and therapy, medication-assisted treatment is very successful if the patient is motivated. Our staff is here to help you on your journey to beat addiction. Once you walk in our door, we can help provide resources and develop a plan to help you with sobriety.
Medications Available in the Clinic
Suboxone is a prescription medication used to treat opioids by using two ingredients, Buprenorphine and Naloxone. Buprenorphine blocks opiate receptors that help reduce an addict's cravings. Naloxone helps reverse the effects of opioids. These two drugs together help combat withdrawal symptoms. Users who take suboxone may experience pain relief, calmness, reduced worry, and stress, and even relaxation. Suboxone is a single-dose daily film put under the tongue.
Sublocade is a prescription medication containing Buprenorphine. This is a once-monthly injection. Subclocade typically begins working within 24 hours after the injection.
Methamphetamine Treatment
We do not currently have medication-assisted treatment options for methamphetamine use, but our outpatient treatment program does help support patients addicted to methamphetamine looking to achieve and maintain sobriety.
Our outpatient treatment program focuses on a continuum of care. Our case managers help patients with accessing resources including mental health treatment like psychotherapy and referrals to inpatient and intensive services. Case managers also help with establishing patient with a Primary Care Provider for their overall health and other services as needed. Patients can also schedule frequent visits for accountability in regard to their treatment plan.
Addiction Medicine Questions & Answers
Do I need to be sober to enter the program?
No, we do not expect you to be sober to enter our program.
What medications do we use?
We use a variety of medications to assist with treatments including Suboxone, Sublocade, Vivitrol, and Naltrexone.
Should I expect to be in withdrawal?
Potential withdrawal symptoms can vary greatly from patient to patient. Your provider can thoroughly explain what you may expect during treatment.
Can I enter the program if I'm pregnant?
Yes, you will work with a provider to determine a treatment plan that is safe for you and your baby.  
I'm uninsured. What are my options?
Our staff is available to help patients apply for Medicaid and walk you through payment options.
How often should I expect to be in the clinic?
You can expect to visit our clinic at least once a week at the beginning of the treatment plan. As you make progress, your appointments may be scheduled 2 weeks – 3 months out depending on your treatment plan.
Who can I bring to my appointments?
Anyone that you would like to be a part of your journey, including children, may come to the clinic and participate in your appointments.
How quickly will my plan go into effect?
Immediately, most patients leave the first appointment with a prescription.
Road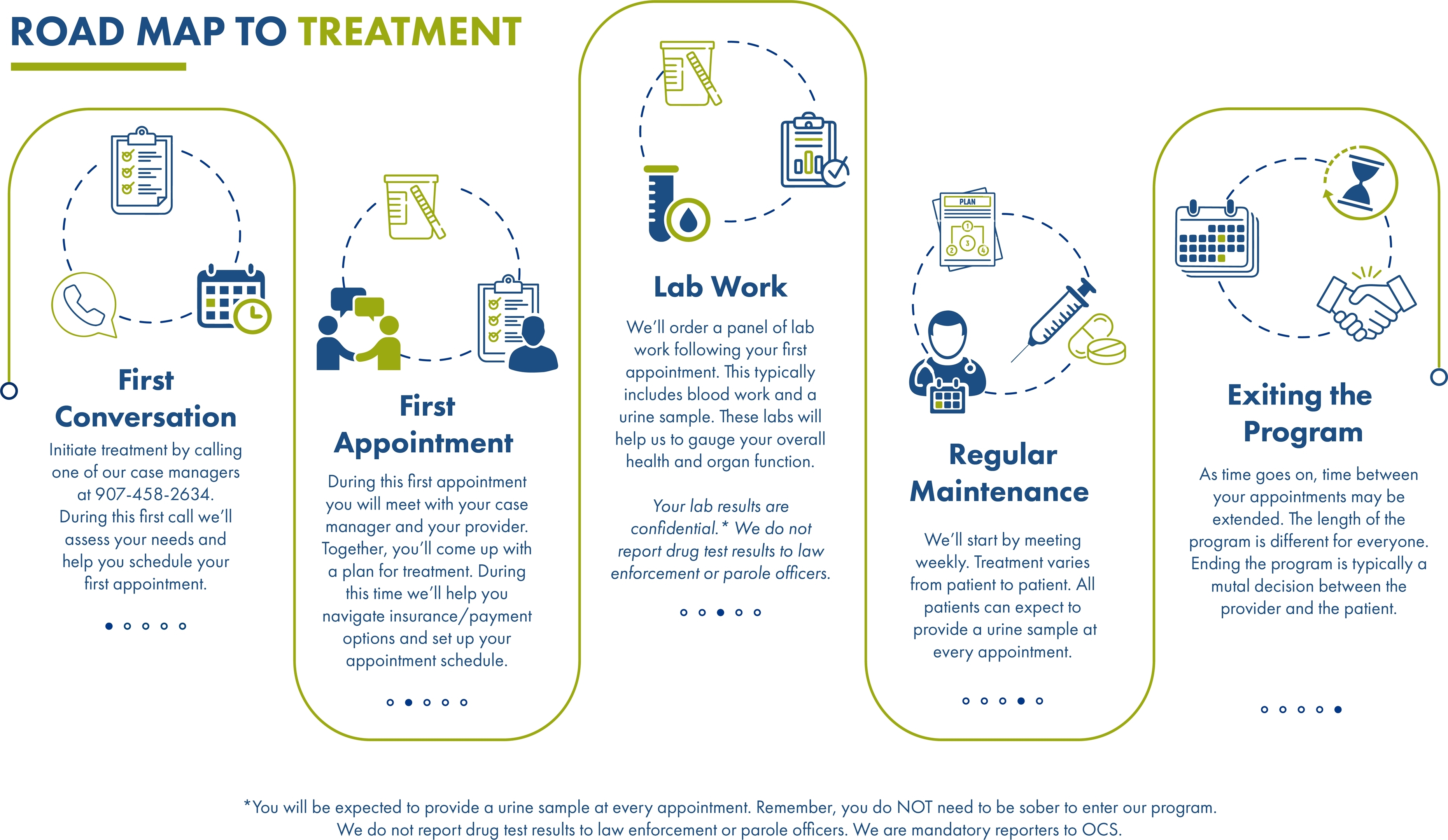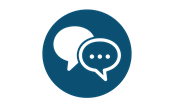 To access services,
please call
907-458-2634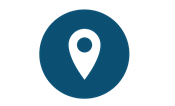 2111 East Cowles St. 
Fairbanks, Alaska
---------- Grouped Links ---------
numOfValidGroupedLinks: 1
Meet our Providers: https://www.foundationhealth.org/services/clinics_centers/specialty_care/addiction_medicine/meet_our_providers
----------------------------------
-------------- Links -------------
numOfValidLinks: 0
----------------------------------
Who We Are
this.updated: True
links.count: 0
obj.hasPermission(enums.PermissionVerb.Edit): False
numOfValidLinks: 0
linksJSON.groups.count: 1
numOfValidGroupedLinks: 1
numOfValidGroupedLinks -> numOfLinksToDisplay: 1
numOfLinksToDisplay = 1
this.layout = 1
---------- Grouped Links ---------
numOfValidGroupedLinks: 3
Katie's Story: https://www.foundationhealth.org/our_community/fhp_healthbreak/katies_story
Finding the light: the meaning of happiness: https://www.foundationhealth.org/our_community/fhp_healthbreak/finding_the_light_the_meaning_of_happiness
Opiate Crisis - The other Pandemic: https://www.foundationhealth.org/our_community/fhp_healthbreak/opiate_crisis_the_other_pandemic
----------------------------------
-------------- Links -------------
numOfValidLinks: 0
----------------------------------
Read Our Blog Articles
this.updated: True
links.count: 0
obj.hasPermission(enums.PermissionVerb.Edit): False
numOfValidLinks: 0
linksJSON.groups.count: 1
numOfValidGroupedLinks: 3
numOfValidGroupedLinks -> numOfLinksToDisplay: 3
numOfLinksToDisplay = 3
this.layout = 1
---