Written by: Anne Baker, DO, MS, OB/GYN & Women's Health, Tanana Valley Clinic
Published by: FHP Public Relations
The female genital tract is delicate with a unique pH balance and microbial flora. When unbalanced, this can lead to yeast and other bacterial infections, that if untreated can lead to further and more serious complications.
There are lots of bacteria inside the vagina, and they're there to protect it. Simply put, the vagina is actually a very sterile environment. It is designed to keep itself clean with the help of natural secretions, or discharge. Like your period as part of your natural menstrual cycle, the mucus that is produced naturally from the cervix is completely normal.
If this is uncomfortable to talk about, it shouldn't be. Your body's natural cycle and your vaginal hygiene is nothing to be ashamed about. Many women are reluctant to ask their gynecologist questions about these "taboo" topics, which is further construed as unhygienic and unsanitary with language like "feminine hygiene" and "sanitary products". I'm here to talk openly and freely about it, and share the many feminine care products that are available to you, which you may or may not be aware of.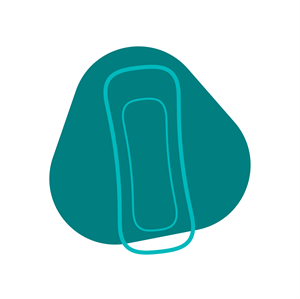 Panty Liners
Thinner than most pads, a panty liner can be worn daily to keep a woman feeling fresh. Panty liners keep clothing dry from the normal vaginal discharge, and should be changed at least every five hours to avoid infections and skin irritation. We recommend unscented products to minimize any chance of vaginal itching or inflammation. If you notice that your vulva is irritated from wearing panty liners, try a brand made of natural/organic material.  As always, I recommend wearing underwear made of only cotton to allow air to circulate. We also suggest to not wear one while you sleep to allow your skin to breathe properly.
PROS: Liners are thin enough that they can't be seen through clothing, and may help you feel fresh in between your menstrual cycle. They are also great for preventing any urine leakage from laughing, coughing or sneezing, or even running and jumping.
CONS: Panty liners, especially natural or organic brands, can be expensive for daily use, especially when worn properly and changed every 5 hours. Perfumes, dyes and other materials may cause allergic reactions.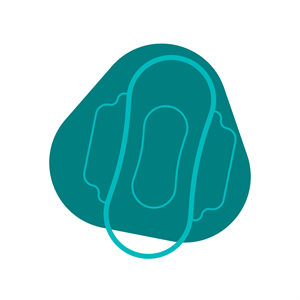 Disposable Sanitary Towels (Pads)
Most sanitary towels, or pads, have an absorbent center and a plasticised layer to prevent leakage. It's necessary to change a pad regularly, about once every four hours, as blood that comes in contact with oxygen starts to smell. Also, the plasticised layer can develop excess moisture, which is the ideal condition for both bacteria and fungi.
PROS: Good quality pads prevent leakage, and are versatile for any type of outfit or most activities. Disposable pads come in a variety of styles, sizes and absorption levels, making them very convenient.
CONS: Most women experience a pungent menstrual odor due to the absorption of blood being exposed to oxygen, as well as the moist environment harboring bacteria and fungi.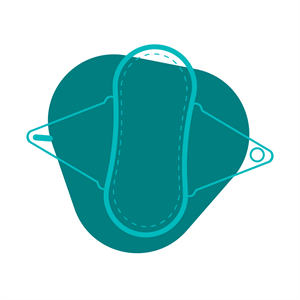 Washable pads
Washable pads are made of cotton and are extremely soft, and they are also durable enough to be used for over five years. They can be made and bought in all sizes and shapes, and have push-buttons keep the pad secure. Most of the pads have a water-repellent layer to prevent leaking. However, they have to be washed properly after use to prevent vaginal infections.
PRO: As they are reusable, washable sanitary towels are good for your budget and for the environment. If they're made of the right material (unbleached cotton), they're free from toxins and bleach.
CON: You have to wash them, which might not appeal to every woman. They also move a bit out of place, as they don't have an adhesive strip.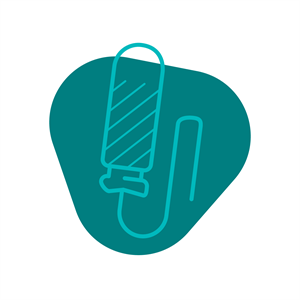 Tampons
These little cotton cylindrical pads that fit inside your vagina are currently the most popular period product. They come in different absorbencies to accommodate light to heavy periods.
With tampons, the more fluid it has absorbed, the easier it is to remove. However, never leave a tampon in for too long. All sorts of bacteria can grow, leading to smelly discharge, infections, pelvic pain, fever and in extreme cases even the potentially lethal Toxic Shock Syndrome (TSS). TSS is a rare but life-threatening complication of certain types of bacterial infections.
PROS: Tampons are small enough to fit in a tiny pocket or in the palm of your hand, so they're convenient and discreet (not that your period is anything to be ashamed of).
CONS: They have a big environmental impact, with millions of tampons and their packaging end up in landfills every year. Inserting them can be uncomfortable, and they can sometimes irritate and dry out your vagina, making it itchy and uncomfortable. Tampons also contain more bacteria than pads. You also have to remember to take them out which can be hard when you are living a busy and active life.  It isn't uncommon for women to notice an unexplained foul odor and speculum exam reveals a forgotten tampon- it can happen to anyone!
To reduce your risk of TSS:
Use the lowest absorbency tampon you can.
Change your tampon frequently.
Alternate between tampons and pads when your flow is light.
Wear a pad at night.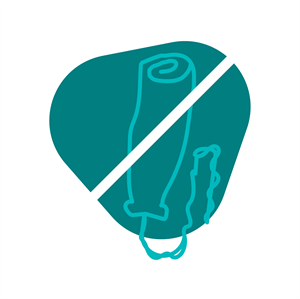 Reusable/ Washable Tampons
Washable tampons are a thing, yes. However, we do not recommend them. While they may be a current trend for eco-friendly users, the environment of the body may cause partial disintegration of insertable tampons made of yarn or fabrics, leaving fibers behind after the tampon is removed.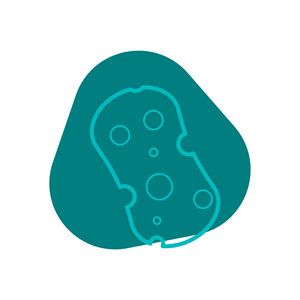 Sponges
The sponge tampon is not a new invention at all, as sea sponges have been used as tampons by women since ancient times. Nowadays, a menstrual sponge is a soft and flexible sponge made of absorbing foam material, which you wear internally during your menstruation. Menstrual sponges are like tampons, but without strings, though you can leave a sponge in for up to eight hours depending on how heavy your flow is.
Sponges are also anti-allergen and thus suitable for women who are intolerant of cotton or cellulose tampons. Because of the soft material, they typically form to the shape of your vagina, preventing contact with oxygen and thus preventing unpleasant odors.
PRO: The menstrual sponge is an ideal product for active lifestyles. They can be kept in for up to eight hours and have minimal odors.
CON: Sponges require you to get a little friendlier with your vagina. They are also more expensive than normal tampons, and without a string, naturally a bit trickier to remove. And just like a normal tampon, you throw away a sponge after use (in the appropriate trash receptacle of course, not in the toilet).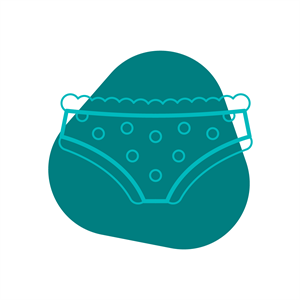 Period Panties
Period pants aren't new, either. They've actually been around since the early 1900s. Women wore 'sanitary aprons' or 'period bloomers' which were made of cloth-covered rubber or latex. They were leakproof, but also unbreathable, sweaty and surely uncomfortable.
Period panties of today refer to underwear that are designed specifically for women to bleed onto. They consist of different layers; an anti-odor and antimicrobial quick dry cotton top layer to wick moisture away from skin, a second layer absorbs the liquid (up to two tampons' worth!) and the bottom layer to prevent leakage onto clothing.
PRO: Since period pants also soak up sweat and other little leaks, they're ideal for exercise. They come in a variety of brands and styles and range in absorption capabilities from light to heavy.
CON: On heavy days, you may want to change them out during the middle of the day, which could be a hassle in a public or shared bathroom. They're expensive, and may be an investment to create a cycle set. And if blood scares you, hand-rinsing your flow out before washing may not be your thing.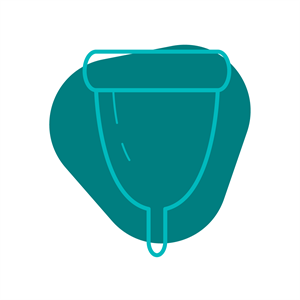 Menstrual Cups
While they seem unconventional, menstrual cups are not a new invention at all, actually patented in the United States back in 1932.
Available in many different shapes and sizes, menstrual cups are flexible cups that are inserted into the vagina while you're on your period. Unlike a traditional tampon, however, they catch and collect the blood instead of absorbing it, and can be worn for eight to 12 hours. They are typically made of medical grade silicone or rubber, and they come in reusable and disposable options. Menstrual cups are not about how heavy your flow is, but rather depend on your physique. Once you find one that works for you and your own unique anatomy, a reusable menstrual cup can last up to ten years (if washed and cared for properly)!
PRO: Menstrual cups are ideal for an active lifestyle and exercise, and they can be kept in for up to 12 hours. They also don't dry out the vagina and they prevent unpleasant odors. And since they are reusable, they great for the environment and for your wallet.
CON: Unless you're an expert at it, removing a full cup can get pretty messy. Menstrual cup usage has a learning curve, and you may need to try a few different brands and sizes to find the right one. Suppliers advise to have patience and try it out for about three cycles before giving up. Menstrual cups can also be an expensive purchase, though when compared to the annual expense of disposable products, the cups are actually more economical.
One last thing – if you have an IUD or a history of TSS, be sure to check with your doctor before using a menstrual cup.
Baker, Anne, DO, MS is a physician with Tanana Valley Clinic OBGYN & Women's Health. Dr. Baker embraces the privilege of building trusting partnerships with her patients and specializes in minimally invasive gynecologic surgery, prenatal care and preventative care.