Written by: Dante Conley, MD, Tanana Valley Clinic General Surgery
Published by: Public Relations

In the wake of record snowfall, Fairbanks' residents put their bodies to work. They shoveled, pushed snow blowers, pulled vehicles from ditches, and hauled extra water "just to be safe." Although some were able to enjoy the powder, many spent days clearing snow and protecting their assets. 
All of the activities mentioned above put strain on the human body. Core muscles are particularly challenged by pushing, pulling and twisting. As a result, it can be difficult to tell the difference between muscle strain and the development of a hernia.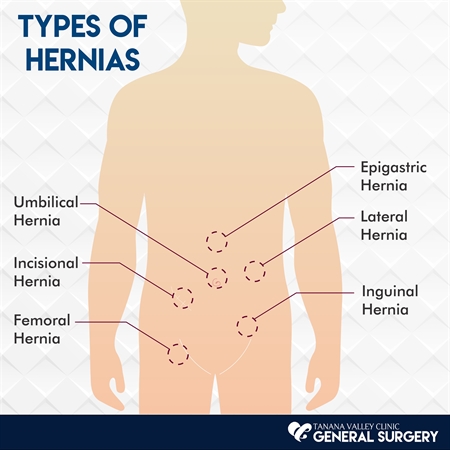 What is a hernia?
A hernia is a hole through which abdominal tissues or organs protrude. They can be present at birth but many develop later in life from a weak spot in the abdominal wall. Any part of the abdominal wall can develop a hernia, but the most common sites are the groin (inguinal), navel (umbilical), or at the site of a previous surgery (incisional). 
Common symptoms include a visible bulge on either side of the pubic bone, in the scrotum, groin or anywhere on the abdominal wall. The bulge may become more obvious when you're upright or when coughing or straining. You may have a mild pain, burning, or an aching sensation at the hernia site. You may also notice electrical sensations or irritation from pressure on nerves around the hernia.

When to see a doctor
A physical exam is usually all that's needed to diagnose a hernia. If the diagnosis isn't readily apparent, you may have an imaging test, such as an abdominal ultrasound or CT scan. 
Surgery is the only way to fix a hernia. But many small or minimally symptomatic hernias can be watched instead of repaired. If symptoms increase, a hernia can be repaired at a later date. 
For patients with significant symptoms (e.g. intense pain, nausea, vomiting), we worry about a loop of intestine becoming trapped within the hernia defect. This is a surgical emergency in which "incarcerated" tissues lose blood flow and become threatened. If this is not addressed immediately, the hernia contents can become "strangulated". This is a surgical emergency requiring immediate treatment.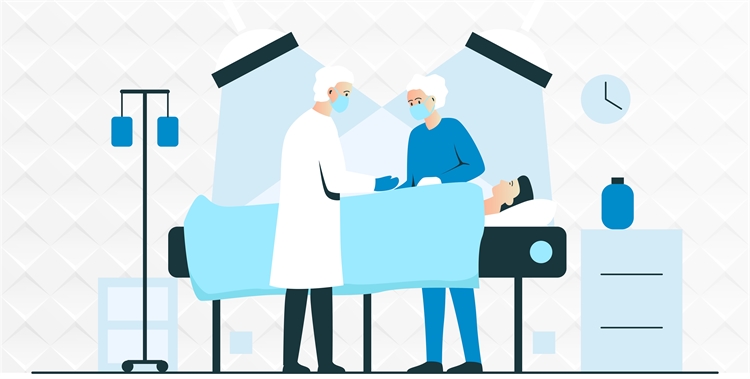 What to expect
There are two general types of hernia operations – open hernia repair and minimally invasive hernia repair. For an open hernia repair, an incision is made near the site and the hernia is repaired in layers, typically using synthetic mesh. This might be done with local anesthesia and sedation or general anesthesia. The mesh reduces the risk that the hernia will come back.
Minimally invasive hernia repairs are performed using several small incisions in the abdominal wall. The abdomen is inflated with carbon dioxide gas to provide a working space for the surgeon. Specialized instruments and a camera known as a laparoscope are passed into the abdomen and used to close hernia defects, place mesh, and evaluate other concerns.  
There are many benefits to minimally invasive hernia repairs. In addition to smaller scars, patients who undergo laparoscopic surgery have a lower risk of surgical site infections and other postoperative complications. Patients generally recover more rapidly, have less pain, and enjoy a quicker return to work and other activities.
After a hernia operation, you'll typically be able to get up and about quickly. But it will be a few weeks before you can go back to your usual activities. Let's all hope the snow stays at bay until then!
Dante Conley, MD, completed her medical degree at Harvard Medical School and residency at the University of Washington. She is a Fellow of the American College of Surgeons, a member of the Society of American Gastrointestinal & Endoscopic Surgeons, and the American Medical Association. Dr. Conley specializes in General Surgery with an emphasis on minimally invasive techniques.