Nicole Soto, MD is a board certified dermatologist at Tanana Valley Clinic. Her addition to TVC in 2011 established the clinic's very first Dermatology practice, which now includes Mohs services. Dr. Soto is an Army veteran, a mother of five, grandmother of two, and raises horses when she is not seeing patients.
Winter in Fairbanks can be described in two words: dry and cold. These extreme environmental conditions can have effects on even the healthiest skin. This harsh environment alone, or in combination with wetting and drying of the skin during bathing or swimming, can break down the natural barrier function of the skin. If prolonged, this skin breakdown can progress into eczematous dermatitis with redness and itching.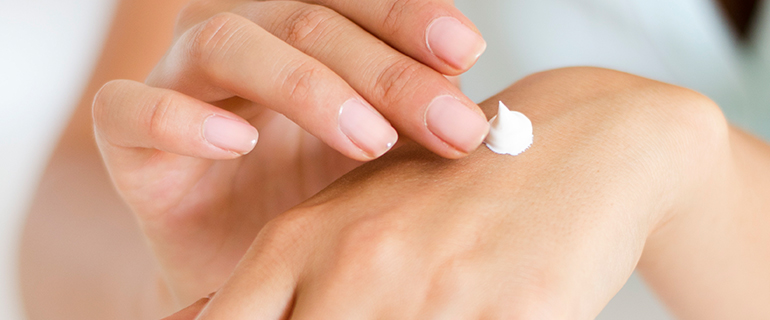 Extreme Exposure
If you find yourself outside throughout the winter, whether it be work, skiing, walking the dog, or even walking into work from the parking lot, exposed skin on the face (especially the eyelids and lips) can dry out quickly and become chapped, cracked, and irritated. Use a moisturizer on the eyelids and lips at night, or if needed during the day, with a bland emollient such as Aquaphor ointment, Vaniply ointment or White Petrolatum Jelly. These are very soothing and will not burn irritated skin.
Daily Guidelines
The best practice is to establish a daily routine to counter the effects of our cold winter climate. Follow these simple guidelines to keep your skin at its healthiest and maintain its natural barriers:
Use a gentle bar soap such as Dove or a non-soap cleanser such as Cetaphil cleanser on the face/hands/body. Cetaphil can be found at any major grocery chain, in the facial cleansers aisle.
Avoid using anything other than your hands to apply the cleanser. Washcloths, "puffs", and loofah sponges only strip away the protective oils and contribute to further irritation.
Keep the water temperature turned down to warm, not hot. Hot water will increase itching afterwards and further dry out the skin.
Our hands are also at risk, not only from the cold, dry air but also because we tend to wash our hands frequently with soaps that wear down the skin's natural protective barrier.
Within 3 minutes of turning off the shower, apply a thick, over-the-counter emollient (moisturizer) cream or ointment to the skin to seal-in the moisture gained during the shower and prevent evaporation. This also will protect the skin from irritants (potentially anything that comes into contact with the skin, including our own sweat). Pump-bottle lotions are generally too thin and evaporate too quickly to effectively protect and keep the skin moisturized.
If you prefer baths, do not use bubble bath or bath salts, only a bath oil in the water (but be careful getting out, oils can make the tub slippery).
If you still have trouble with dry skin, or there is prolonged redness or itching, you may need evaluation by your primary care physician or a dermatologist, who specializes in conditions of the skin, hair, and nails.