|
Dr. Ahmed : Men's Red Tie Breakfast
Time

February 9, 2017

8AM → 10AM

Export

Location

Carlson Center
Dr. Ahmed to present at the Men's Red Tie Breakfast, part of AHA's Go Red for Women Conference.
Dr. Muhammad Ahmed will be the featured presenter at the 2017 Men's Red Tie Breakfast, part of the American Heart Association's Go Red for Women event.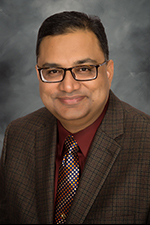 In his presentation, Dr. Ahmed will explain the complex physical and chemical processes that occurs within our bodies to sustain life is called Metabolism. During Metabolism, energy is produced and substances necessary for life are synthesized. Changes in Metabolism effect our health. Usually the effect is long-term, therefore it is overlooked. However, simple changes in our lifestyle can effect Metabolism too. In this presentation, I will use popular press to give common-sense advice, which can have a positive impact on your metabolism and health.
Go Red for Women is an initiative and event created by the American Heart Association to empower women to take charge of their heart health, as heart disease and stroke is the number one killer of women.
The Men's "Red Tie" Breakfast is tailored to a male audience, to create awareness of heart disease as a leading health threat.
---