About The Cardiovascular Clinic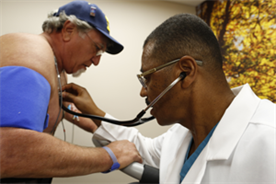 The Porter Heart & Vascular Center Clinic provides premier heart care to Interior Alaska residents and visitors. Our team will coordinate your heart care, involving your primary care provider and other specialists when needed, to ensure the best possible outcomes.
Fairbanks' first full-time cardiovascular clinic offers short and long-term management of heart disease including:
Cardiac Echocardiography
Electrocardiography  (EKG)

Holter and Event Monitoring

Stress Testing
Tilt Table Testing
Impedance Cardiography
Pacemaker Analysis
Follow-up care for bypass surgery and cardiac catheterization patients
Peripheral vascular circulatory assessment
Please contact your physician for a referral or our office for more information.
 
FMH Main Entrance
First Floor
Phone:
(907) 458-6450
Fax:
(907) 458-6430

8:00 a.m. - 5:00 p.m.
Weekdays
---